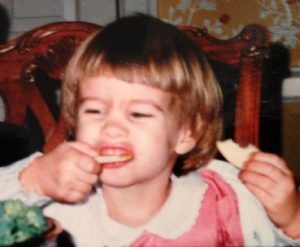 I fell in love with beer cheese when I was 3 years-old – thanks to my dad – and I've been hooked ever since! Hi! I am Olivia! I am a beer cheese maker and a beer cheese lover! Growing up, beer cheese was my favorite snack. My brother and I were beer cheese enthusiasts and connoisseurs, so much so, that eating beer cheese became a family tradition. At the lake, at Derby parties, block parties, and birthday parties; at holidays, picnics, and tailgates. We took beer cheese with us everywhere and shared it with our family and friends!
When I moved from Lexington to Nashville for college, I was broken-hearted to leave my beer cheese behind. So on my trips back to Lexington, I would pack a cooler full of beer cheese, haul it back to my dorm room fridge, and share my favorite snack with my favorite friends.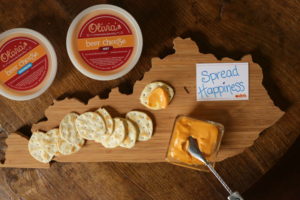 In 2006 in our family kitchen, my dad and I made beer cheese for the first time. As we experimented and shared our beer cheese with family and friends, they urged us to make more and share more, and with their support and encouragement, we even entered the Beer Cheese Festival's amateur division – and won!
With that vote of confidence from beer cheese experts and enthusiasts, we knew we needed to share more! That's how Olivia's Beer Cheese came to be: from my family's kitchen, through a lot of good times, a bit of growing up and with a steady stream of love and dedication, every batch comes to you full of flavor and ready for a good time.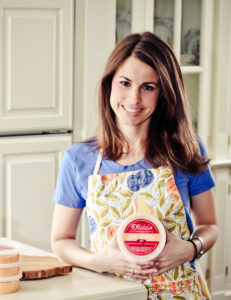 And speaking of flavor, I strive to develop the very best flavor in my beer cheese. I use high-quality ingredients, including a sharp cheddar cheese specially formulated for Olivia's Beer Cheese, and create unique beer cheese blends using local craft beers, Kentucky Bourbon, and American Rye Whiskey; then I soften the heat level so that you can taste those ingredients. I never use anything that I wouldn't serve right up on my table at home. Learn more about my flavors here.
I believe everyone should have the chance to share beer cheese with those they love. It's been a special family tradition that I'd like to share with you, so please join me in my pursuit to spread happiness, make people smile, and inspire new family traditions!